Banners and Ad Ideas
We don't require that you use our banners or text promotion suggestions, but we wanted to offer some images to assist you with your marketing efforts. Most advertising sites have standardized on the size formats that we offer below. This will help facilitate webmasters who have these layouts incorporated into their page templates.
| | |
| --- | --- |
| Save | Right-click on an image below and save it to your hard drive. Store it in the directory of your website where you will display the ad. |
| Paste | Edit your page, add the image and add your Clickbank hyperlink |
Standard size banners
Note that we show (HTML) "borders" to these images to make them easier for you to visualize the size. When you add these banners to your pages they will NOT show the borders unless you modify your HTML to show borders.
Right-click on any banner below to save it to your hard drive.
728 x 90
468 x 60
| | |
| --- | --- |
| 200 x 200 | 300 x 250 |
120 x 600
Having problems?
Got a question about adding the HTML to your page? Send us your question and we will get back to you ASAP.
Do you maintain a website?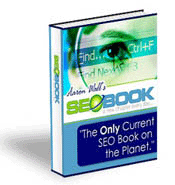 Because you are reading this page, I assume you are responsible for a website. I don't have to tell you what a challenge it is to get a site to rank well in Google or Yahoo!. That is the scourge of every webmaster.
There is help available, in fact, there's too much help available. There are literally thousands of sites that claim to be the "authority" on this subject and most just rehash the same old pabulum.
The one source I use and refer to many times each month is the SEO Book and blog. I read Aaron Wall's SEO Book and follow his blog. If you need help marketing your website I highly recommend reading it. Learn more...
Read the amazing true story of how one woman, with no previous experience, earns 400,000+ per year ... selling other people's stuff online! In her down-to-earth, sincere and often humorous style, Rosalind Gardner guides you through the entire process of building an affiliate marketing business on the 'Net. In over 300 pages, and more than 68,000 words, you'll learn how to pick the best programs, negotiate a commission raise and save time, money and effort on everything from affiliate software to web hosting. To learn exactly how she does it, Click Here.
◄ClickBank Linking Instructions | Need Help with Linking | Banners